The World's Best Russian Honey Cake.
Now in India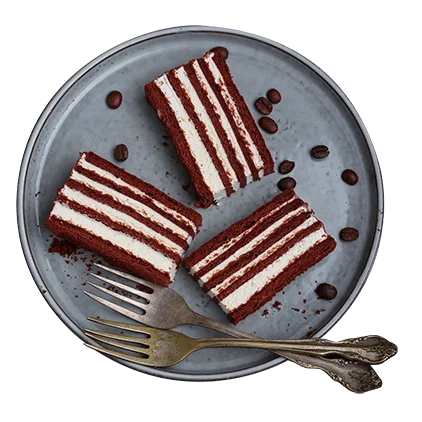 Hive Russian Honey Cake,
A sweet treat for all
occasion
Hive Honey Cake,
A sweet treat for all occasion
Bringing the traditional Russian treat to India, Honey Cake has successfully introduced the immaculate Russian Honey Cake from the 19th century. As the premier manufacturers of this luscious fusion in the Middle East, our dedicated bakers at Hive Cake have devoted weeks, nights, and days to recreating this flawless dessert. The result is a masterpiece that perfectly aligns with the Russian taste and structure, capturing the essence of this beloved confection. Furthermore, throughout the entire process, Hive's venture to reimagine this delightful confection with the expertise of a Russian chef has been nothing short of extraordinary. Moreover, we take pride in our ability to furnish a taste that cannot be matched for generations to come, making Hive's Russian Honey Cake an unparalleled culinary experience.
Russian Honey Cake by Hive, traditionally known as Medovik, not only accords you the heavenly bite harmonized perfectly with the finest honey and dairy but also serves as the introductory and primary dish under the Hive menu. Moreover, originated in Russia in the 19th century, Hive meticulously fused every possible solution to form the perfect dessert, which corresponds precisely to its earliest Russian dainty.
Coffee Cake is a delectable creation featuring layers of coffee-infused cake with a honey touch, elegantly frosted. Additionally, indulge in the richness of Hive's Russian Coffee Cake, a luscious layered dessert that satisfies your taste buds with delightful sweetness. Moreover, multiple layers reveal a creamy coffee filling, completing this heavenly confection. Furthermore, it is a must-try for coffee enthusiasts!
Experience the extraordinary Saffron Russian Honey Cake, exclusively curated by Hive's talented in-house bakers. Moreover, this delightful addition to our menu showcases the finest handpicked saffron, infusing each layer with a captivating flavor. Furthermore, indulge in the harmonious blend of saffron and creamy caramel filling, elevating this dessert to new heights of culinary bliss.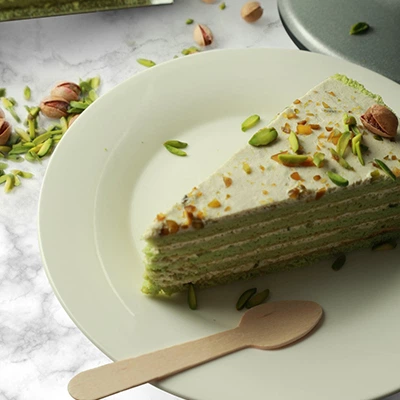 Savor the irresistible delight of Hive's Pistachio Cake, a delectable dessert that skillfully blends rich, nutty pistachio flavors with a moist, tender cake base. Additionally, infused with finely ground pistachios, the vibrant green cake emits an alluring aroma, enticing the senses. Moreover, each slice features a creamy pistachio frosting, perfectly balancing sweetness and nuttiness. Furthermore, experience pistachio perfection at Hive.
Aravind Varghese
Tried the Hive Russian Honey Cake from Ajfan Kottayam! I can vouch for one thing, the hive is undisputedly the best honey cake brand in the world! The extraordinary quality of the Hive Honey Cake is what truly sets it apart. The use of premium ingredients and meticulous craftsmanship are evident in every way. This culinary marvel was created with great care and passion.
Cake house
The taste of Hive Russian Honey Cake is beyond what I can explain! It tastes so yummy and sweet! If you are looking for honey cake in India, Hive Honey Cake is your go-to place! I can't express how much I love the Hive Honey Cake. It has evolved into my go-to dessert for special occasions, family get-togethers, and indulgent moments. It never fails to impress and leaves a lasting impression on everyone who wants to taste it.
Jawahir Shamsudheen
I just got the Hive Honey Cake! No words! Such a delicious-tasting honey cake! I was instantly transported to a realm of pure indulgence with the first bite itself. The cake was moist, tender, and infused with a distinct honey flavour. Every bite was a symphony of sweet and aromatic notes, perfectly balanced to create a heavenly experience for my taste buds. Hopefully, I will be ordering more Hive Honey Cakes in the future.
Fathima
Tried the Hive Saffron Honey Cake today! Absolutely loved its cream and honey-filled layers, truly a classic medovik! I was constantly on the lookout for unique and exquisite treats as I am an avid lover of desserts. This Hive Honey Cake truly exceeded all my expectations. It becomes an instant crowd-pleaser, sparking conversations and leaving a lasting impression whenever I share it with friends and family. I recommend this to anyone who appreciates exquisite desserts crafted with love.
Feel Free to contact
with us for any kind of query.
Bakers at Hive work to their full extent to carefully secure and not compromise the ultimate Russian honey cake. Furthermore, we sell thousands of Honey Cakes every day, year-round, making Hive the leading Honey Cake manufacturer and distributor in all of the Middle East. Moreover, we now propose home delivery for Hive's signature dishes in India, ensuring that our customers can enjoy our delectable creations in the comfort of their homes.